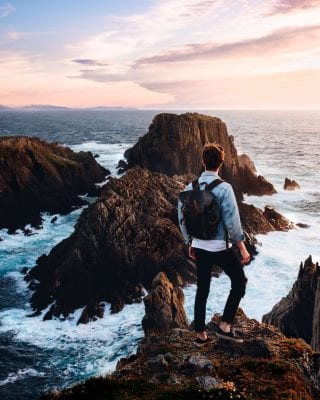 Bucket list ideas? No problem!
So, here's some good news, it's almost summer! The days are getting longer and it's getting brighter outside. So, it's almost time for some adventure! Do you have any bucket list ideas? Do you need some? Either way, itemit can help.
With our simple asset management software, you can track your adventure ideas and your adventure assets. Whether it's a bucket list of movies to watch, food to eat, places to travel to, itemit can help you track and manage everything.
Are you ready for the freedom of Summer? Set for BBQs, travelling, adventure? Looking forward to more sun? Have more fun using itemit, and make sure you get everything you want to do, done.
Travel and Adventure
First of all there's travel and adventure. It's at the top of anyone's bucket list, running away from the trials and tribulations of everyday life. So, what are some bucket list ideas when it comes to this? And how can our simple asset management software help?
Travel
There's travel. Ditching life and going on the run to some far flung country. No matter where you want to go, whether it's Vietnam, Thailand, or Las Vegas, asset tracking can help get you there.
Use our barcode asset tracking software free to track your plane tickets and where you left them, the information on them, and you can even link them to your href="https://itemit.com/track-my-passport-using-itemit-and-qr-code-asset-tags/">passport. Use asset tags shipped around the world from the UK for closer tracking. These can be QR code asset tags or you can even use itemit as an RFID tracking app.
With all of this clarity and information, you can have closer asset monitoring. Set reminders as well so you know exactly when you need everything. Never turn up to the airport without your passport and tickets again!
It's even possible to link up webpages, so any emails with barcodes and boarding passes will be quick and easy to find.
Adventure
The best adventures are unplanned. However, there'll still be things to track. Helmets for kayaking, ropes for climbing. Even if you turn up to the best rockface to climb, without an effective asset app you might find you've left your equipment back in the UK.
This goes for tickets as well. Sometimes you have to pay to get into adventuring. Skydiving isn't free. Why not use our mobile asset tracking software to track tickets and add the relevant financial information?
itemit can also be used as small tool tracking software, meaning that no matter what your adventure, no matter your bucket list ideas, we can help you realise them.
So use our qr code asset tags to track your helmets, your kayaks, your ropes, your pickaxes, anything! What could your ideas be? Snowboarding? Surfing? Skateboarding? Track your boards with more durable metal qr code asset tags that are waterproof and that aren't going to wipeout.
Food and Drink
More of a foodie? Trying to get into that five star restaurant for just a bit? You can use our asset management software to list and track different activities. Add a list of restaurants that'll become your asset register, then add reminders for when they're booked.
If you're cooking you can use itemit to track ingredients. This can mean adding use by dates so that meal you've always wanted to cook won't make you ill! You can also track your equipment in the kitchen so you know more about your knives, pots and pans.
As well as this, you can link up your foods as well, meaning that you can use itemit as a sort of recipe book. Link the assets and add the information as how to make that perfect meal.
This goes for drinks as well. Mixology and making cocktails is quick, simple, and effective with asset management software. Link up your mixers with your spirits and start the party!
Hobbies
itemit is simple, creative asset management software. This means you can use it to keep track of your hobbies. Track your guitars, drums, track your stamp collection, your trains. Track anything!
An asset register will be created meaning that no matter what you have, you can track and add information to with our simple asset management software. With an asset register it's simple to look at all of your assets in one place and know all about them at all times.
Show off your collections with information about your assets. Never be short of information again! Add dates for your coins, your stamps, anything. Know more and keep that knowledge close with the touch of a button.
If you're starting a new hobby, itemit can help with this as well. No matter your bucket list ideas, finances, spending, and learning is easier. Want to get a new guitar? See how much money you've been spending on your assets with your fixed asset register, and know how much you can dish out.
More Bucket List Ideas!
Bucket lists can be anything. They can be movies you want to watch, books you want to read, wine you want to drink. With or without qr code asset tags, our simple asset management software can help you keep track of any of your assets.
Track your library to know what you have and haven't read, and who the author is. Track your movies so you know exactly where to find them when it's the week you finally get round to watching The Godfather. Track your wines and add the dates. Save that vintage for a special event with your reminders.
Get more out of your bucket list ideas with itemit.
Need more Bucket list ideas?
Check out the basics of the app so you know exactly what itemit can do!
Start your free 14-day trial now
Instant access. No credit card details required.