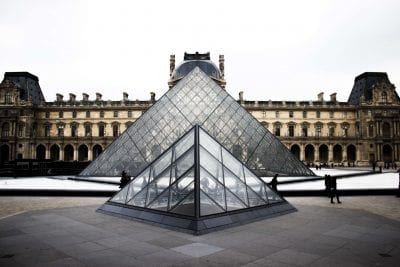 Tracking your museum's historical assets using itemit
If you work for a museum, you'll have a lot of historical assets to keep track of and manage. Whether these be paintings, statues, or models of dinosaurs is up to what kind of museum you are.
So, picture this. You're an archeologist in some far flung South American country. You've found a golden idol and escaped locals and rolling boulders. You manage to get your idol back to the museum. You don't do it for the money, just the pride that a piece of history is on view for the whole world.
The museum itself has fantastic property management. It uses spreadsheets to track its assets however. This fantastic, unique historical asset isn't managed properly because of the complicated information overload that is a spreadsheet. Within weeks it's rustier and in worse shape than how you found it.
With a more effective fixed asset register and asset management software, this could be avoided. The benefits are plenty. Track when assets are being researched and studied, track the temperatures they should be kept at, who has them, which is which. All of this is easy with the right asset management system.
Types of Historical assets
There's a reason that museums exist. They show us where we've been and where we're going. The past, present and future all under one roof. So, what are your historical assets?
They can be your exhibits, your tour scripts, your works of human creativity. They can be anything and everything you show off.
This sounds impossible to track and manage. It can take a while to add new historical assets to spreadsheets and all the information required with them. With itemit, the simple asset management software, it's quick and easy.
Use our unique and effective QR code asset tags or use itemit as an RFID tracking app in order to scan in and maintain asset profiles of all your exhibits. Don't want to stick asset tags onto exhibits? Simply place them on the display cases and track in the same way.
In a museum-like fashion, let's have a look at where this type of asset tracking and management will take us in the future.
With public asset profiles, all it takes is a quick scan of a QR code to access all the asset's information. So, instead of just recorded tours walking around the museum, historians and visitors need only scan a QR code asset tag with their smartphone to get all the information they want and need.
This isn't the future, however. With our simple asset management software, this is possible now.
How can you track your assets?
So how do you, a curator, caretaker, historian, or museum maintenance worker use asset management?
The first and most important aspect of asset tracking and management is a simple fixed asset register. Most people will make the mistake of using a spreadsheet for this, not knowing that there is something out there that's a lot easier to view, edit, and export. itemit will automatically create your fixed asset register for you.
When you have your fixed asset register, you can start looking at how you track and maintain your specific assets. This can be in terms of IT asset management, if you're tracking your CCTV softwares or recording softwares, or it can be in terms of tracking and managing physical assets.
With an effective asset management system you can set reminders, such as when warranties end or when subscriptions renew, you can add financial information such as the cost of assets or insurance info, and you can track the assets and who had them last.
In a museum environment, historical assets are often studied and maintained, and so being able to add reminders and specific maintenance information to an easy to find asset profile gives a definite edge on the paperwork required that surrounds museum work.
itemit
With itemit, the simple asset management software, you can do all of this and more.
Place our QR code asset tags shipped from the UK or our RFID tags on the back of painting frames or on display cases. Then, when you scan these you can instantly see what should be where and all the relevant and needed information in one place.
As well as being able to track your physical assets, you can manage them in a quick and simple way, with reminders and identification information easy to add and update at the touch of a button.
Less paperwork and time saved means time that can be invested elsewhere meaning a better ROI.
Finally, our asset management system will automatically create a fixed asset register that will automatically update whenever you make a change. So, if you're using itemit for equipment tracking in terms of the equipment you use to clean and maintain historical assets, or if you're using it for the assets themselves, a fixed asset register will help you extend these assets' useful life.
Hatches, Matches, but not Dispatches
Historical assets have a life long before they end up in a museum. Whether they're fossils from a millenia ago, or tools from centuries ago, or examples of more recent technology. With asset tracking, you can extend the life of these assets.
After all, this is what a fixed asset register is for: effective asset management and maintenance.
Why not use an asset management software that really suits your needs? Get itemit today.
Need more info on historical asset tracking?
Check out the basics of the app so you know exactly what itemit can do!
Start your free 14-day trial now
Instant access. No credit card details required.