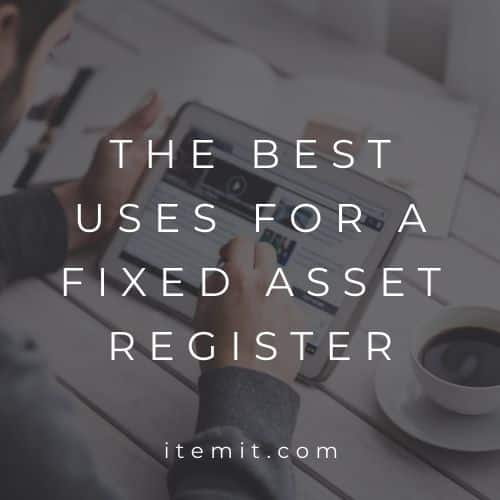 You can use a fixed asset register for many different purposes. All of these purposes will help you save time and money, as well as help you improve your operations and make your company more efficient.
In essence, a fixed asset register is a list of all of your fixed assets. This list will have specific information included, such as the costs of assets. Likely, you'll be using fixed asset management software to track and manage these assets. 
To find out more about what fixed assets your companies own, you can read more about this in our blog about what a fixed asset is.
The Best Uses for your Fixed Asset Register
So, what are the best uses for your fixed asset register?
When you've logged your fixed assets, and you're tracking them with your QR code asset tags, you'll start to collect some important data. This data you'll be able to export, view, edit, and use.
How can you use this data?
Save Time
First of all, you'll save time. Knowing where assets are thanks to location tracking ensures you'll be able to find and use assets in an instant.
Also, being able to add equipment checkout information to your fixed asset register ensures you won't double book on asset use. This means that you and your colleagues will be able to manage and plan time for operations better.
Save Money
The ability to track warranties, maintenance information, and depreciation data helps you save money.
Your fixed asset register provides the visibility you need over your fixed assets. With this visibility, you'll be able to see when an asset is more economical to replace. 
Whether this is because a fixed asset has required frequent maintenance, or because you're tracking depreciation data, you'll have the information you need to make a replacement with the peace of mind that it's the correct decision.
Lose Fewer Assets
Thanks to QR code asset tags and location tracking, you'll be able to see where all of your fixed assets are. So, whether your business is working remotely or if you're onsite, you'll have a full register of what you own and where it all is.
Having a complete fixed asset register allows you to mitigate asset loss and helps with preventative measures against asset theft.
Thanks to streamlined reporting features in your fixed asset management software, too, seeing which assets haven't been seen recently is an instant process.
Pay Fewer Taxes
Finally, a full, exportable list of your assets and their respective financial information is great for your business expenses.
What this means is that you'll be able to verify the cost of assets, add them to your expenses, and update the purchase dates. This way, you'll know that your expenses are correct.
Ghost assets and zombie assets can either incur fines or can mean that you're paying more than is required in your taxes. A fixed asset register helps you mitigate this risk.
Find out more about itemit's fixed asset management software by clicking on the demo button below.
Start Your Fixed Asset Register Today
Start your free 14-day trial now
Instant access. No credit card details required.