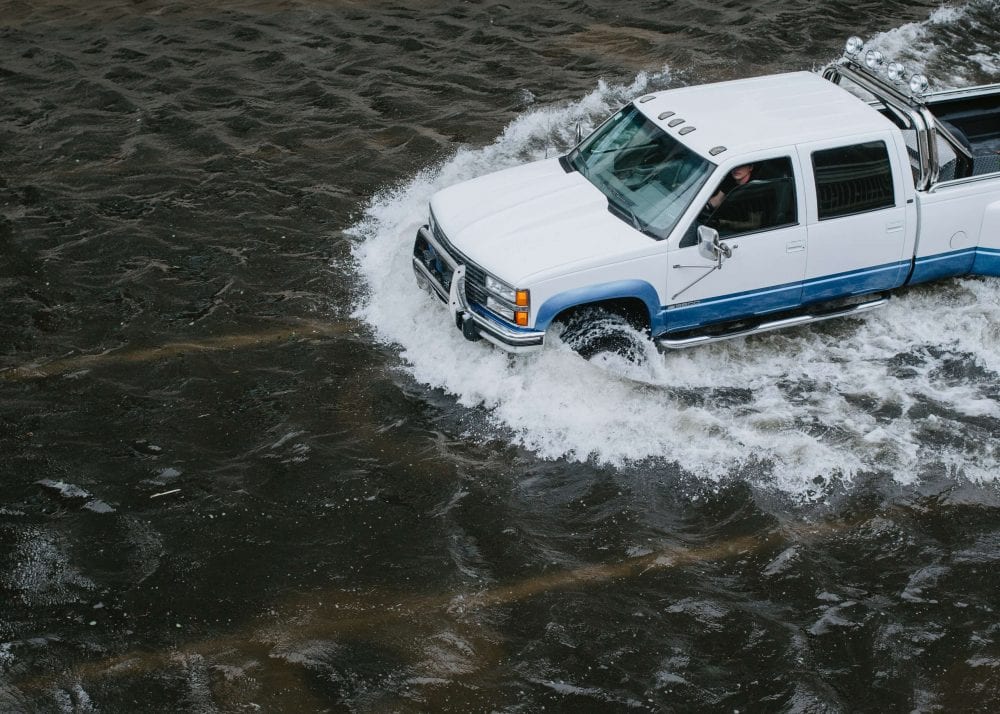 How asset tracking can help you out of the rain
Tagging and tracking water restoration service assets
It happens. Whether it's been on the forecast or not, a flood can set someone back a lot of time and a lot of memories through no fault of their own.
Their dogs have been barking at the grey skies. They've checked the weather over and over again. They've triple checked their flood insurance. However, this doesn't mean they'll be prepared for the worst, as a flood is always going to destroy more than what's in its path.
They might be sitting there when river banks burst and water starts slipping in. They might be asleep as the rainfall simply doesn't end. Or they might have already left the house for somewhere safer, knowing what's about to come. When it happens, though, it can ruin more than just a day.
Speed, therefore, is important. Whether an emergency response team gets there quickly or not, water restoration and emergency flood damage can be a lengthy process, or, with the right tools and assets, it can be finished as soon as possible.
When somebody's lower floor hangs in the balance and they just want their house back to the way it was, flood restoration needs to be quick and it needs to be effective. Asset tracking software can help with this.
The challenges
Flood restoration comes with a lot of challenges. Working hard, safely, quickly, and as a team is important, but there are still a variety of issues to overcome.
The first issues are related to speed. If somebody's property has been ruined by flood damage, they'll want to get back to their life as soon as possible. The problem is, if there's been a flood, emergency flood response will likely have more than one property that needs fixing.
In terms of both efficiency and urgency, flood restoration and drying services need to know exactly where all of their assets are.
This can present another problem as a lot of teams are involved with flood restoration and so assets can be separated by distance. There's also a problem here with flood restoration equipment rental, as information about how long the equipment can be used for or who is using it can also create a challenge.
Meeting the standards
As well as this, assets must be properly maintained. An asset that is slowly deteriorating and untracked is not an optimised piece of equipment.
All flood restoration companies, from dry flood restoration to flood restoration, must know what state their assets are in. To do this requires some form of asset management.
However, spreadsheets have somehow taken over as a lot of companies' asset management system.
Spreadsheets create clear limitations, especially in the field, where communication and clarity are a must have to keep everything flowing smoothly.
If an asset breaks, time taken to flag the issue and rectify it is limited but crucial. Imagine trying to use your phone to open a spreadsheet and update asset information whilst in the field and then having to contact team members about it all the same.
It's not just about assets breaking, though. Regular servicing to ensure preventative maintenance optimisation and to keep track of how well assets work is also essential. It's difficult and time consuming to use a spreadsheet and switch dates back and forth depending on if a test is successful. When this happens, time that could be spent on more important things, such as going on water damage jobs, is lost.
A better way
Is there a better way? Yes. Asset tagging.
It's really that simple. Using asset tags, whether RFID tags or QR code tags will instantly open up a lot of asset management options and opportunities.
Better than an equipment barcode tracking system, using QR code asset tags means that you can simply use a phone to scan any piece of hardware into your asset tagging software.
Ditching old and inefficient barcode asset tracking software or the use of spreadsheets and updating to a new asset management system can save time and therefore provide a better ROI, also.
What can it do?
Great asset management software can show which team members have which assets and where they are. This makes communication in the field a lot easier as if other teams have an essential asset, it can be retrieved faster if where the asset is has been made clear.
Specifically, this shows that with asset tracking software, you can keep track of where assets are left, what is owned and what is rented, how many of a certain asset you have, and who assets have been left with.
Routine maintenance is also tracked a lot more effectively as it's tied to an individual asset which just needs to be scanned, then the information updated. This is a lot faster and easier than sifting through a spreadsheet to find which asset needs updating and when.
Assets can also be linked to manuals and warranties to ensure that a company can get the most use and optimisation as possible out of their assets.
Asset tagging
So, how should things be tagged? You can get all sorts of asset tags from the UK or from all over, but it's sometimes best to keep it simple and effective.
An RFID system can help, as can one using QR codes. In flood restoration, however, it's important that the right tags are used.
What do RFID asset tags cost? This simply depends on the asset tags you've decided to use, but ones with a bigger read range can be costlier and an RFID asset tag scanner will be another necessary purchase.
With itemit, you can use our pre-printed asset labels, however. We're always willing to talk with companies and help find solutions to their specific needs.
This has meant that we've developed more robust, waterproof, and easy to scan QR asset tags.
Durability is a must for flood damage restoration equipment, so why should the tags be any different?
As well as this, you can even try our asset tagging software for free!
How asset management will help
Not only can asset management help make a lot clearer, such as who assets have been left with and where they've been left, it will also save time that's usually wasted on an older "pen and paper" kind of system.
In any case, time is money, but in this one, time is also what makes the difference between a happy homeowner and a wet one.
Don't just take our word for it, though, Action Dry Emergency Services had this to say:
"itemit has saved us a lot of time. It is the only software we trust to accurately allow us to see the locations of equipment on demand without paying a fortune."
Looking for a way to keep dry?
Begin a trial of itemit Enterprise and you'll receive free QR asset tags!
Start your free 14-day trial now
Instant access. No credit card details required.