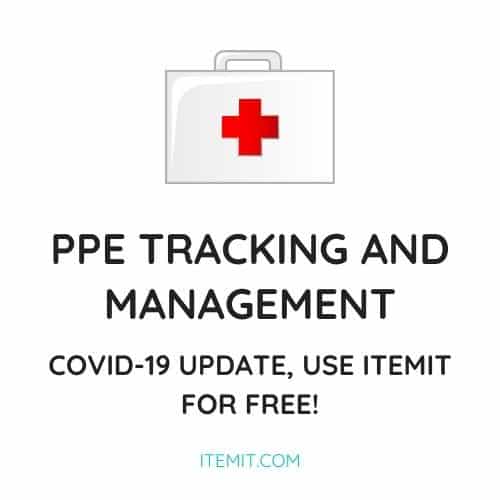 PPE tracking and management is always crucial, but given the current crisis the world is facing, it's now more critical than ever. That's why we're offering the itemit medical equipment management software for free to anyone fighting the COVID-19 crisis.
itemit is medical equipment management software, meaning it can help you track and manage your PPE, as well as your other crucial medical devices and equipment.
How is itemit Being Used?
itemit is already in use by the University of Cambridge and the NHS. In immediate response to COVID-19, the university set up a pop-up warehouse in Cambridge to store and distribute donations of PPE. The PPE is sorted on-site and categorised into approved and unapproved equipment, while the volunteers also record the stock of each item using itemit. Addenbrooke's staff, view PPE stock levels using itemit and place orders for the equipment they need. Volunteers at the popup warehouse then deliver much needed PPE to the hospital.
How Can itemit Help in the Fight Against COVID-19?
If you're a hospital or require PPE 
If you're a hospital that has PPE stored off-site then itemit offers an easy way for you to record and monitor stock levels and even to order PPE to be delivered to you. The system logs each item of PPE and all of its key information such as whether it's approved for protection against COVID-19, stock levels and usage instructions. itemit offers a web portal and mobile app to access PPE data.
All of the stocks of PPE will be visible to you, whether they be FFP3 masks, gowns, hazmat suits. You'll be able to see what's available to order and the stock count in your warehouse. 
You'll also be able to use the medical equipment management software to track other healthcare assets, such as machinery, hospital beds, and other equipment, but more on that later.
If you're storing and delivering PPE
If you're a warehouse offering stock to a hospital, you'll be able to use itemit to manage your stock levels and deliveries with ease.
Each time new stock arrives, such as 200 hazmat suits, scan the QR code associated with hazmat suits and update the quantity by 200. Then, when you're sending stock off, say 300 gowns, scan the associated QR and reduce the quantity by 300. 
With the issues management system, you'll get an email every time the hospital makes an order that'll tell you how much stock they require. Then, upon delivery, you'll be able to resolve the order.
Using itemit as your Medical Equipment Management Software
itemit is currently free for everyone fighting the COVID-19 crisis, no matter the industry.
Additionally, if you are a hospital, you'll also be able to use itemit to track and manage your other medical equipment assets. itemit's healthcare asset tracking software will help you keep track of pre-emptive maintenance, meaning you'll know that all of your equipment is running to the best of its ability.
You'll also be able to book assets out and assign them to your colleagues, track and manage IT assets to ensure patient confidentiality and GDPR compliance, and you'll be able to track the location of all your necessary tools, equipment, and technology.
To find out more, you can contact the team at 01223 421611, email us, or fill in the form below. We'll get you up and running right away!
Start Using Medical Equipment Management Software Free, Now!
Start your free 14-day trial now
Instant access. No credit card details required.